Dr. Chris Borroni-Bird
Dr. Chris Borroni-Bird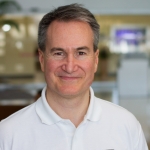 Qualcomm Technologies Incorporated
Session Details
To Plug or Not to Plug: Wired vs. Wireless Charging
May 21, 8:30am-10:00am
As electric drive technologies advance, 'plugging-in' may not involve a plug at all. Come watch the leaders in the charging infrastructure industry debate the merits of wired vs. wireless charging of EVs – and be prepared to offer up your questions!
Bio
Dr. Chris Borroni-Bird joined Qualcomm Technologies Incorporated as a VP of Strategic Development in August 2012 and is responsible for developing and implementing a transportation vision around wireless technologies (both wireless power for electric vehicles and wireless communications between vehicles).
Prior to this, Dr. Borroni-Bird was GM's Director of Advanced Technology Vehicle Concepts and Electric Networked Vehicle (EN-V) Program. The EN-V concepts are small battery powered urban mobility vehicles that can be driven autonomously and were demonstrated extensively at the 2010 Shanghai World Expo. Chris was selected as one of Automotive News' Electrifying 100 in 2011. He also led GM's Autonomy, Hy-wire and Sequel "skateboard" vehicle concepts.
Before joining GM in 2000, he led Chrysler's gasoline fuel cell vehicle development and was inducted into the Automotive Hall of Fame as a Young Leader in 2000.
Dr. Borroni-Bird is co-author of "Reinventing the Automobile: Personal Urban Mobility for the 21st Century", with Larry Burns and the late Bill Mitchell, that was published by MIT Press in 2010.
Chris obtained his Bachelors and Masters degrees in Natural Sciences from King's College, Cambridge, completed his Ph.D in Surface Science from Cambridge University and performed Post-doctoral research in solid state physics from the University of Tokyo.