Britta Gross
Britta Gross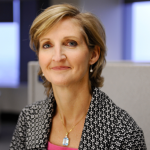 Director, Advanced Vehicle Commercialization Policy
Session Details
Pace of Infrastructure Deployment
May 20, 3:45pm-5:00pm
Infrastructure continues to pop up around major cities and along major highways, making it ever-easier to drive electric. Discuss the many issues surrounding successfully implementing workplace and other public charging.
Bio
Britta Gross is the Director of Advanced Vehicle Commercialization Policy at General Motors. She is responsible for steering the infrastructure and commercialization efforts for GM's alternative fuel vehicle technology programs, including biofuel, natural gas, plug-in electric and hydrogen fuel cell electric vehicle programs. Ms. Gross has an extensive and diverse background in the Aerospace and Automotive industries.
Britta received a degree in Electrical Engineering from Louisiana State University in Baton Rouge and studied language arts at the University of Wurzburg in Germany. She sits on the Board of Directors of the Electric Drive Transportation Association and GoElectricDrive and is one of Automotive News' "Electrifying 100" and a 2013 recipient of the GreenBiz "Verge 25" award.