Tanvir Arfi
Tanvir Arfi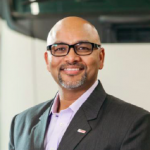 Automotive Service Solutions, Robert Bosch GmbH
Session Details
Opening Plenary Session
May 20, 8:00am-10:00am
Bio
Tanvir Arfi is a business transformation leader with twenty years of experience in engineering, supply chain management, operations and general management. Tanvir is currently the President and CEO of Robert Bosch's Automotive Service Solutions business, with approximately 5000 employees, operations in 19 countries, and revenues in excess of $1.4 Billion. Tanvir previously had a ten year tenure at SPX Corporation (a Fortune 500 company with 15,000 employees and $6 Billion revenue) as a Divisional President and Chief Supply Chain Officer. Prior to joining SPX, Tanvir had senior leadership roles at Cessna Aircraft/Textron (a Fortune 500 company) and was an adjunct faculty of Mechanical Engineering at Wichita State University.
Tanvir has an entrepreneurial management style and is driven by innovative thinking. He has successfully expanded revenues and improved profitability at two mid-cap publicly traded global corporations while fundamentally transforming the business model to steer the business in high margin, expanding end markets.
Tanvir has a Bachelor's degree in Mechanical Engineering from Bangalore University and a Master's degree in Mechanical Engineering from Wichita State University. Tanvir is a certified Lean Enterprise and Six Sigma Expert; an American Society of Quality (ASQ) Certified Reliability Engineer; a Certified Malcolm Baldrige Examiner: and, a licensed private pilot. Tanvir speaks four languages and has previously lived in India, Kuwait and currently lives with his family in the greater Detroit area.